Xiaomi Corp (1810 HK) ("Xiaomi" or the "Company") reported its first-quarter as a public Company after the close of the Hong Kong market on August 21, 2018. Given the massive PR campaign surrounding the IPO to drum up investor interest in subscribing both to Xiaomi's shares and its brand of consumer engagement via Internet services, second-quarter results from the Company are important. We expected Xiaomi to provide additional details on its success in roping in additional consumers into its Internet services ecosystem. Not to be sneezed at, Monthly Active Users ("MAU") grew 41.7% YoY to 206.9 million from 146.0 million for Q2-2018, accompanied by an increase in Average Revenue Per User per quarter ('ARPU") of 15.4% to RMB 19.1.
Advertising revenue which amounts to 60% of Internet services revenue grew approximately 70% to RMB 2.5 billion, whereas other value-added services increased 54% to RMB 1.5 billion. The value-added services segment can thank gaming revenue for its robust performance, which comprises half of the category at RMB 704 million and grew 25.5% YoY.
It is indeed interesting that a Company focussed on selling high-value and high-quality smartphones are being looked at through the Internet services lens. The reason for that has been discussed by us and others on the platform by highlighting that the services segment constitutes a small portion of the revenue but contributes the bulk of the Company's gross margin as illustrated in Figure 1. For Q2-18, the company's hardware margin ended up disappointing from its already low levels, whereas services managed to hold up their end of the bargain.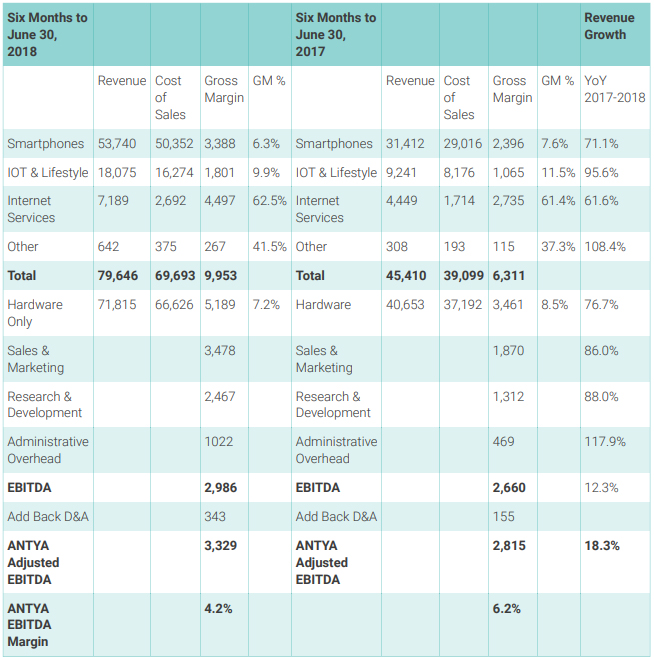 The Company delivered robust top-line growth as anticipated in all segments that it competes in, with Smartphones growing 71.1%, IOT & Lifestyle growing 95.6%, and Internet Services growing 61.6% YoY.
Hardware revenues which comprise the bulk of revenues for Xiaomi grew 76.7% YoY.
However, robust growth in hardware was accompanied by declining gross margins as the Company expects to gain market share at the expense of margins. To quote Xiaom1;
In order to lay the groundwork to capture long-term value, we will selectively prioritize higher growth to capture market share in key products over higher gross margins."
Declining gross margins in the hardware segment make the Internet services segment ever more critical to Xiaomi's financial health and cash flows. The total gross margin of RMB 9,953 RMB for the first six months 2018, increased 58% YoY lagging total revenue growth of 75.3% materially. That suggests Xiaomi is finding it challenging to capture economies of scale and scope in its operations, even as it continues to gain market share globally. Moreover, while hardware sales contributed 90% to revenues in the first six months of 2018, only 52% of the gross margin was attributable to hardware, whereas the services segment contributed 48% of the total gross margin from 10% of sales in China.
Rising sales are also accompanied by increasing S&M and R&D expenditures, which are needed for Xiaomi to keep up with its counterparts in China and the rest of the world. The net result is declining EBITDA margins from already abysmally low levels. Xiaomi's EBITDA margin (estimated by ANTYA) decreased from 6.2% in the prior year to 4.2% in the first half of 2018, a fall of approximately 33%. To provide context, for the trailing twelve months period, Apple Inc (AAPL US) disclosed an EBITDA margin of 31% and a gross profit margin of 39%.
Is China Slowing Down for Xiaomi?
Xiaomi claims that it is one of the top five vendors of Smartphones in 25 countries and regions of the world. For a relatively recent entrant into the smartphone segment, this is a highly credible achievement. However, revenues without attendant profits are unlikely to sustain the Company's current enterprise value of $73 billion. China will remain a key to Xiaomi's success or a lack thereof, given that we do not anticipate the Internet services segment to become meaningful for Xiaomi outside China, in the foreseeable future. As illustrated in Figure 2, Xiaomi's international pace of growth far outpaced that in China.

Revenue growth of 47% in China was less than a third of the revenue growth in the rest of the world, which grew 167%. Most of the sales outside China are coming from India and Indonesia which tend to be much lower value markets and without the added incentive of Internet services margin, Xiaomi may have to rethink either its pricing or its strategy for the Indian market. A much less discussed aspect of Xiaomi's success in India is Flipkart – an online Indian marketplace that was recently bought by Walmart — which went all-out to gain customers and increase the GMV on its platform as it looked for a sale. More details available in Walmart are buying India's Flipkart.
We believe given the long-term nature of Walmart's bet in India, Xiaomi will have to start building an offline channel which will have to be accompanied by higher costs and even lower margins than it currently reports from India. Early indications of offline push are already apparent with the following
disclosure from Q2-18;
In India, our offline smartphone sales achieved a market share of over 20% and ranked number one in 8 cities, according to GFK, in the second quarter of 2018. Even with the rapid expansion of offline channels, our overall operation remained highly efficient with an operating expense ratio of 8.8% for the second quarter of 2078."
Apparently, the Company is cognizant of the higher costs of doing business in the offline world of India, and soon higher account receivables and higher bad-debt write-offs will refocus Xiaomi's attention on how best to benefit from the Indian opportunity.
China, on the other hand, is already seeing a significant increase in competitive intensity with Huawei, Oppo, Vivo, Apple, Samsung, and others all vying for the top-end and the mid-tier customers. Therefore, although Xiaomi reported an increase in ASP of 25% YoY in China, by selling its flagship Mi 8, the company also said that "The Smartphone market in China is in a period of recalibration" and that current strategic initiatives "will lay the groundwork for further shipment growth in China in 2019."
Conclusion
Therefore, as a first cut, Xiaomi's results have a few positives, i.e. higher ASPs, higher MAUs, and higher ARPU in China, and significant hardware revenue growth. However, both EBITDA and gross margins compressed, the competitive intensity in China is increasing for everyone involved in that market, and growth in India will be challenged by new manufacturing facilities from Samsung, and a pullback in promotions from Flipkart which is now owned by Walmart.
We remain wary of the Company's online lending initiatives in China where it appears that the Company has booked impairments of RMB 232 million in the first six months of 2018. We are also not fans of Xiaomi's intent to grow its micro-lending business in India. As a foreign (especially Chinese) entity involved in lending money to the poor in India, Xiaomi is treading on fire. It could get burnt in more ways than one.
Xiaomi currently trades a forward EV/EBITDA multiple of 32, based on 2019 estimated consensus EBITDA of US$ 2.3 billion, and an enterprise value of US$ 73.8 billion calculated by Capital IQ. As a reference, Apple trades at a forward EV/EBITDA multiple below 12.
We maintain our view that Xiaomi has a 50% downside from current levels.