In ANTYA's view, Tesla Motors (TSLA US) ("Tesla" or the "Company") is winning the war of attrition brought upon it by self-inflicted wounds courtesy its top management, and, fictional attacks undertaken via malicious stories in the news media by those bearish on the Company's business prospects and therefore Tesla's equity valuation. For those that are keeping score, at the close of markets on November 26, 2018, the Company's enterprise value was approximately $69.5 billion. Comparisons to other automakers are irrelevant since most automakers own captive financing arms, whereas currently, Tesla does not hold an automotive financing unit.
Given the well-rehearsed and telegraphed investing sentiment on Tesla since the beginning of 2018, Figure 1 highlights that those that were bullish on Tesla have withstood both the bearish onslaught and the November market correction very well.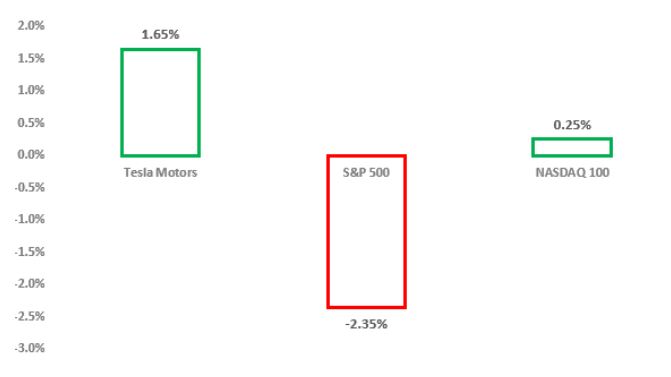 Data as outlined in Figure 1, excludes the 5.55% upwards move in Tesla, 1.5% in the S&P 500, and 2.2% in NASDAQ 100 on November 26, 2018. That the vociferously short narrative has failed to make a dent in either our resolve or others that believe in the technology and the company's valuation has ultimately forced some short-covering, with Tesla's short position declining by approximately 2.4% in November in 2018.
The trend is evident in Figure 2.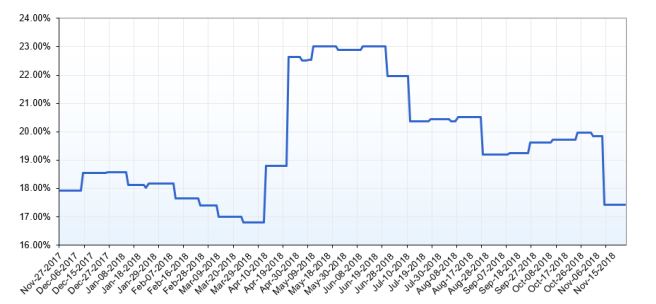 According to the latest data from Capital IQ, 29.93 million shares are sold short compared to 34.06 million as of November 08, 2018. Therefore, the weakness in equity markets that took hold in November 2018 globally has assisted bearish investors in covering their respective positions, although the sheer number and value still outstanding, does not bode well for those that are currently short.
No wonder when Elon Musk talks of excruciating hard-work and "single-digit week survival probability" during Model 3 production ramp, many investors holding for that eventuality doubled down on their positions in May 2018 and June 2018, as illustrated in Figure 2. More details are available in this Axios/HBO interview of Musk, How Tesla Nearly Died: Elon Musks's Long Nights | AXIOS on HBO.
Bears assured us of Tesla's inability to repay its convertible bonds due in November 2018, and in March 2019, as one of the surest indicators that the Company will eventually fold. In Tesla Inc. — The Debt Default Narrative — Why Are Bond Investors Sanguine? we discussed the state of Tesla's bonds, and elsewhere we have discussed that Tesla Inc. — Nothing About Tesla Is Conventional, So Why Fret?
Since the publication of our report discussing Tesla convertible bonds, Tesla's senior secured convertible bonds due on March 1, 2019, have started trading at a significant premium and now sport a negative yield to maturity of -23% as illustrated in Figure 3. Now the bears need to find another narrative.
Tesla bonds are rated B- by Standard and Poor. Therefore, at the last traded yield of -23.8%, the said convertible bonds are trading at a spread of 30% versus the 6.06% for B-rated corporations with 3 months to maturity. We do understand that convertibility can affect yields and makes Tesla bonds incomparable on a direct basis to the curve, but the fact remains that bond owners are trading those bonds like equity and expect Tesla stock to stay resilient enough that their investment will come through unscathed.
To that end, the recent price concessions in China should help Tesla regain momentum in a preferred market where the Company enjoys brand loyalty and offers the best product in the marketplace. In July 2018, the newly instituted trade reprisals by China forced the Company to raise its prices. It appears that those price increases have dampened demand in the country, and Tesla is looking to regain its footing. More details are available in Tesla cuts prices of Model S and Model X cars in China to absorb trade war tariffs.
That based on new tariffs imposed by Beijing, Tesla was significantly disadvantaged against local competitors is evident from the following table sourced from NIO Inc (NIO US)'s IPO prospectus
According to the story in South China Morning Post referenced earlier, MODEL X 75D mentioned in Figure 4, now sports a price of RMB 861,800 compared to 975,700 "from four months ago". While these numbers do not match with disclosures provided by NIO, if the data are correct, two things are readily apparent:
 The price reduction is significant enough to entice demand.
The price gap with the Audi Q7 45 e-Tron vanishes, thereby allowing potential customers to opt for the tried and tested versus the upcoming.
Nevertheless, the financial hit to Tesla will be substantial and could be worth between $200-$300 million in EBITDA at 2017 sales volumes in China. With unit volumes expected to grow in 2019 including Model 3 in the mix, along with Model S and Model X, China should absorb increased units from Tesla, but may not provide significantly higher EBITDA YoY, till Gigafactory 3 is up and running. Tesla has already announced its intention to accelerate the build-out of the Shanghai facility during its Q3-18 call with analysts.
We maintain our bullish stance, although we are aware that the Company's sales and margins in 2019, could be affected by tariff-based adjustments in China. President Trump is not helping either based on the following story from CNBC: Trump suggests US could slap 10% tariffs on iPhones and laptops imported from China