Tencent Music Entertainment (TME US) ("TME" or the "Company") did not waste a single moment, by re-entering the equity issuance fray, as soon as President Trump and Comrade Xi announced a much-appreciated but little anticipated truce at the end of the G-20 summit over the weekend in Argentina. The very same night news broke out that TME was reinstating its shelved IPO and that the Company was seeking to raise – excluding the greenshoe option – US$ 1.23 billion from equity investors at a price of US$7.50/share, by selling 164 million Class A ordinary shares in the U.S. TME and its parent Tencent Holdings (ADR) (TCEHY US) plan to split the share sale and the proceeds. In ANTYA's view, that is a rich valuation if there ever was one.
For a business that acts and shows more like a traditional media player, while using HSD Internet as a distribution medium, rather than broadcast airwaves used by its conventional brethren in China and the rest of the world, the EV/EVITDA multiple as proposed in its current form is stratospheric, to say the least. Investors have previously seen this movie play out with other stocks from the mainland listed in Hong Kong or elsewhere, quickly fall in value. Figure 1 highlights the current valuation accorded to TME if the price as proposed by the Company plays out.
Figure 1 – How sustainable is the proposed valuation multiple?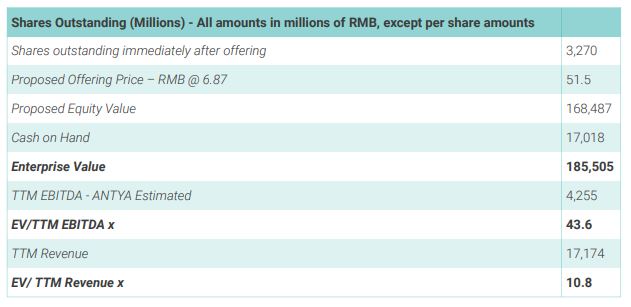 Source: ANTYA and Company Disclosures
Upon successful closure of the book-building process, TME would manage to garner an equity value of approximately US$24.5 billion. That is significantly more than our estimated equity value of US$ 3.77/share as discussed in Tencent Music: We Estimate Value at USD 3.77 Per Share; Lower Than Many Expect – $11.7 B for TME. At this juncture, we highlight TME's valuation compared to others that compete in the same segment in China and globally with the Company.
Figure 2 illustrates TME's premium valuation with little justification to offer for it.

ANTYA Investments Inc. and Capital IQ
We have discussed Momo Inc (MOMO US) and YY Inc ADR (YY US) and the similarity of their entertainment streaming model and the significant lead enjoyed by the two companies in China in Tencent Music: We Estimate Value at USD 3.77 Per Share; Lower Than Many Expect – $11.7 B for TME. We also highlighted the ARPU differential and subscriber growth experienced by Spotify all over the world whereas TME is finding it difficult to grow its paying subscriber base in China. Figure 3 provides an update on the most recent quarter ended September 30, 2018, where TME once again failed to grow subscribers and ARPU on a meaningful basis YoY.
Figure 3: YOY Flat ARPU at TME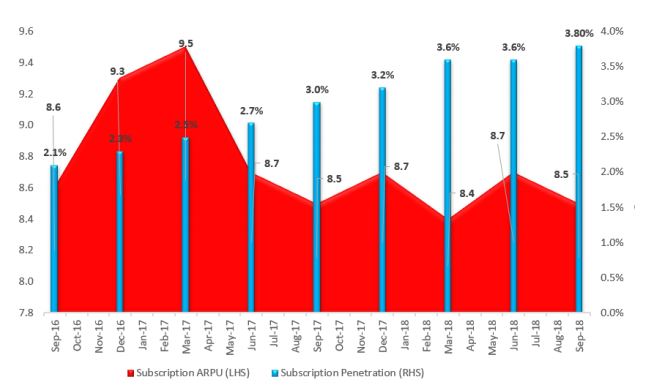 Source: ANTYA Investments Inc. and Prospectus
TME managed to grow the penetration of its non-paying subscriber base by approximately 80 bps YoY to 3.8%, in the process adding nearly 6.5 million paying subscribers to the music streaming services. However, those subscribers are unwilling to pay-up, at least currently, and therefore ARPU remained flat YoY. The Company says that music-streaming subs are helpful in growing its social entertainment subscribers and revenues and perhaps there is a process to monetization that is not well understood currently by investors like us. However, the proposed valuation suggests that significant growth in monetization is about to occur. It is not clear to us, how?
A premium multiple can only be justified if the business exhibits stellar subscriber growth accompanied by pricing power. Netflix displays both, and so does Spotify. Both companies also have a global footprint, which makes them less risky than TME which is bound geographically and by language to a large but isolated market given consumers' preference for a certain type of content. Any investment TME makes in the content will be non-transferable elsewhere, compared to say investments from Netflix in Indian cinema & music – a global Indian diaspora – and its English language programming which is mainstream in many countries worldwide. Therefore, in ANTYA's view, at its proposed valuation, TME investors are setting themselves up for disappointment and underperformance.
TME disclosed the following paragraph in the prospectus;
On October 3, 2018, we issued a total of 68,131,015 ordinary shares to WMG China LLC, an affiliate of Warner Music Group, and Sony Music Entertainment for an aggregate cash consideration of approximately US$200 million. We recorded a share-based accounting charge upon the consummation of such share issuances in an amount equal to approximately US$220 million which represents the excess of the fair value of the ordinary shares on such date, based on the best estimate of the management and taking into account the related terms, over the aggregate consideration received by us. As a result of this material one-off, non-cash accounting charge, we expect to record a net loss for the three months ending December 31, 2018.
This disclosure suggests that TME sold stock to WMG and Sony for US$6.16/ share in October 2018. Given that there is a lock-in period for WMG and some shares of Sony are also subject to a lock-in period, perhaps the lack of liquidity discount would call for these shares to be priced at a discount to the public offering. The IPO is currently priced at a premium of 20% to the price paid by WMG and Sony.
Figure 4 highlights the trajectory of TME's valuation subsequent to the CMC acquisition discussed in – the curious case of CMC –
Figure 4 – TME's Valuation as Reported for Financial Reporting Purposes – USD/Share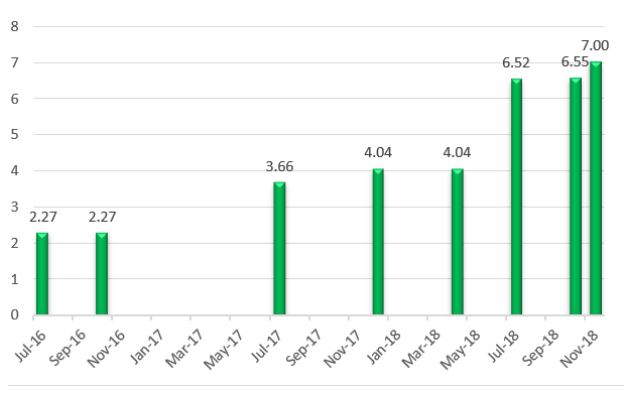 Source: ANTYA Investments Inc. and TME Prospectus
As shown in Figure 4, on November 15, 2018, TME estimated a per-share value of US$7.00 per share at the mid-point of the expected IPO price range. The prospectus currently proposes to sell the offering at US$7.50/share. Just
like Xiaomi Corp (1810 HK), and Meituan Dianping (3690 HK) before it, we remain on the sidelines. There are better opportunities elsewhere in North American markets.
Trailing Twelve Month Financials –ANTYA Estimate from Prospectus
Conclusion
Investors are buying into a business that is likely to get more competitive now that the online and mobile gaming market in China is under intense scrutiny and will be pressured. As discussed in Xiaomi Corporation–50% Downside Conceivable Given "One Foot, One Punch, One Inch" Initiative of China and in Tencent Holdings: China's "One Foot, One Punch, One Inch" Initiative Undermines Tencent, the online focus has now shifted to news and entertainment for the more mature audiences. That cannot bode well in the medium term for the various media platforms in China, all vying for the same eyeballs.