Meituan Dianping (3690 HK) ("MD" or the "Company") reported third-quarter results that were impressive by any yardstick. Consolidated revenues jumped 97.2% YoY to RMB 19.07 billion, while gross profit increased by 33.2% to RMB 4.5 billion. All three segments of the Company viz. food delivery, hotel bookings & media, and its new initiatives are progressing apace with customer usage increasing QoQ, and YoY. Some of the highlights from today's release are:
Gross transaction value ("GTV") in the food delivery segment rose 54.4% YoY or RMB 80.0 billion,
In-store, hotel & travel segment GTV grew 13.9% YOY to RMB 49.3 billion; and
GTV in new initiatives including food-industry-related initiatives, ride-hailing, and bike-sharing increased 1% YoY.
More importantly, MD managed to increase its monetization rate in the food delivery segment to 14% of GTV, thereby delivering a gross margin of 16.6% in the quarter, compared to 15.8% for the quarter ended June 30, 2018, and 7.9% in the same quarter of 2017. Higher gross margins in food delivery can be attributed to both higher GTV per order, and a higher number of orders per delivery rider. Total food delivery orders of 1.78 billion in Q3-18, increased 48.5% YoY and 15.4% QoQ, allowing MD to capture economies of scale in its operation. Those economies can be tenuous, especially given that an 84% YoY food delivery revenue growth was accompanied by a 65% YoY increase in rider costs.
While YOY numbers exhibit breathtaking growth, QoQ numbers suggest that 2019 could prove to be more challenging than currently anticipated, or readily evident in the results disclosed by MD. Specifically, in the food delivery segment, two metrics drive revenue growth.
GTV / Order
Number of transactions per active users
As illustrated in Figure 1 and Figure 2, both those metrics appear to show significant deceleration going forward.
Figure 1: Gross Transaction Value and Delivery Orders
Source: ANTYA Investments Inc. and Company Disclosures
It is evident from Figure 1 that YoY, GTV/Order grew 4.1%, while QoQ the growth petered out to 1.5%. Since commissions are a function of GTV, a stable or slowly ascending GTV implies that MD needs to get its users to transact more to grow the top-line. On that front, driven by massive user incentive spending under the guise of promoting the platform, MD has managed to increase the number of transactions per active user significantly YoY. The question is that once it reins in its free-wheeling ways, will purchase stay put, or could they decline?
Figure 2: Transaction Growth Will Plateau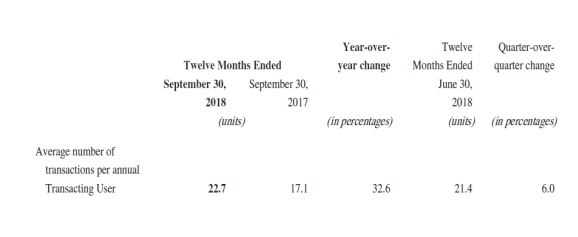 Source: ANTYA Investments Inc. and Company Disclosures
That usage growth is also beginning to slow is evident from Figure 2. YoY orders on the platform grew 32.6% to 22.7 per annual transacting user. However, that growth rate declines to 6.0% on a QoQ basis. For the first half of the year, MD reported user incentive spending of RMB2.38 billion. For Q3-18, MD says it undertook user incentive spending of RMB1.5 billion, which is higher than the run rate for the first six months of the year. Despite that, QoQ growth has slowed down.
Moreover, if ele.me and Didi are in the game trying to capture a share of the same consumer wallet with their own incentives, then MD will have to give up share to maintain the integrity of its financials. Duopolies, or if there is an emerging oligopoly, proper by giving up share and ensuring strong pricing.
We are Intrigued by the Hotel Booking Data
The Company discloses its segmented revenue both by source and by type of product, i.e. commissions or otherwise. We manipulated the data a little and came up with the numbers as illustrated in Figure 3.
Figure 3: Revenue Break-Up – RMB

Source: ANTYA Investments Inc. and Company Disclosures
Although MD reports that the number of domestic hotel room nights booked through the platform rose a whopping 34.8% YoY to 76.1 million, our estimate of the non-food commission revenue generated by the Company shows an increase of only 26% YoY. That perhaps feeds into a narrative that higher online competition and an overall slowdown in outbound China tourist traffic is causing margin compression. Nonetheless, MD's monetization of its merchant base continues to improve with a 105% YoY jump in online marketing revenues. Online advertising in China has been growing at a breakneck pace, and with the smartphone being the media of choice in China, it appears this revenue stream should maintain its strength for a while.
Bridging the Gap – From Revenue to EBITDA and Free Cash Flow
This is where the rubber meets the road, and, in our view, that road appears both foggy and bumpy. The valuation of MD is stratospheric, while its ability to deliver defensible financial results remains suspect. Although one could gloss over the absence of EBITDA, by highlighting that the business is in an investment mode, one cannot overlook the fact that investing in adjacent opportunities when the core itself is unstable, is a strategy fraught with peril.
We highlight MD's valuation compared to three others that in our view are comparable to MD. We base our analysis on 2020 consensus EBITDA because by then the consensus as collected by Capital IQ believes that MD would have positive EBITDA. (Consensus for MD based on 7 estimates)
Figure 4: Valuation Comparisons – US$

Source: ANTYA Investments Inc. and Capital IQ
Having fallen approximately 10% from its IPO valuation to the current price level of HKD61 or thereabouts, MD still trades at a premium to its compatriots that are in either the food delivery business or hotel room booking in its homeland, and also sport free cash flows, much higher gross margins, and EBITDA margins, and are also reinvesting to grow their respective business globally. Just Eat is expanding in Canada, in Brazil, in Australia and New Zealand, and in Europe. Grubhub Inc (GRUB US) is growing in the U.S., and all of these companies face various private competitors such as Delivery Hero Ag (DHER GY) and Uber Technologies (0084207D US) everywhere.
We maintain our bearish stance on MD and believe that in Q1-19 when the IPO-driven frenzied user incentive spending is lapped by the Company, either us or MD, will have some explaining to do. We await more detailed financial disclosure by the Company to provide additional commentary if required.