In the frenzy surrounding China's technology sector in 2017 and 2018, it is rumoured that a unicorn was created every week. For the uninitiated, in tech parlance a unicorn means a private company funded by a venture capitalist that is currently valued at US$1 billion. The realists amongst us know that the unicorn is a mythical creature that belongs to folklore. It is interesting indeed that some of those Chinese unicorns have disappeared within a year, after burning through billions of dollars of cash, leaving their backers none the less wise, their customers stranded and municipalities tidying up city streets. Ofo – a bike sharing start-up, that had a rumoured valuation of US$ 2 billion ("B") was one of those unicorns that are extinct now. More details on Ofo and China's bike-sharing industry are available in How China's Bike-Sharing Startup Ofo Went From Tech Darling To Near Bankruptcy.
Not to be left behind, even the mighty Economist has opined unfavourably on China's bike sharing industry in the following story: Lessons from the fall of China's bike-sharing pioneer. More importantly, it is not the fall of one, but tens of bike sharing companies, and the strict regulatory intervention taking place across China's hundreds of municipalities, local and city governments to deal with the menace of orphan and cluttered bicycles that is a cause of concern.
In that vein, Meituan Dianping's (3690 HK) ( "MD" or the "Company") acquisition of Mobike, a bike sharing business before its IPO, for a princely sum of RMB 15.56B (US$ 2.47B, 1US$= 6.3 RMB in March 2018), appears audacious. Those VC's that sold to MD must be gleeful, while IPO investors are holding the bag.
To put it in perspective Figure 1 highlights the purchase price allocation related to the Mobike acquisition.
Figure 1: Purchase Price Allocation of Mobike
Source: ANTYA Investments Inc. and IPO Prospectus
In ANTYA's view, investors should pay attention to the following numbers from Figure 1:
Goodwill – RMB 12.8B (US$ 2.03B)
Intangibles Assets (Trade Name and User Lists) – RMB 2.44B (US$ 378M)
Property, Plant and Equipment ("PPE") – RMB 5.34B (US$ 849 M)
Beginning with PPE, a bike sharing company with a PPE of US$ 849M is a wonder in itself. For US$ 100, a decent bike is available at any number of stores in N America. On that basis, it appears Mobike has more than 8 million bikes to manage operationally. No wonder it is a nightmare in Chinese cities are up in arms against bike-sharing companies. According to the following story, Mobike had 8.6 million bikes around the time MD acquired the company. (Mobike has the capacity to make 50,000 bikes per day in its own factories)
A company needs customers to put more than 8 million bikes to use per day, and hence RMB 840M (US$ 133M) was allocated to the customer list of Mobike under the assumption those customers were legit and will stick around. A recognisable brand name or trade name that has an unaided recall, i.e. "Mobike", is equally important and MD valued that at RMB 1.6B (US$ 250M).
That, however, was during the heyday of China frenzy. What has transpired since is less than stellar? Bike sharing is in the rear view mirror while Tik-Tok (a video-sharing app from ByteDance) front and centre. For those that are still bullish on China bike-sharing, data outlined in Figure 2, should provides context.
Figure 2: Mobike Usage is in Free Fall – Customers Decline 30% ( In 000's)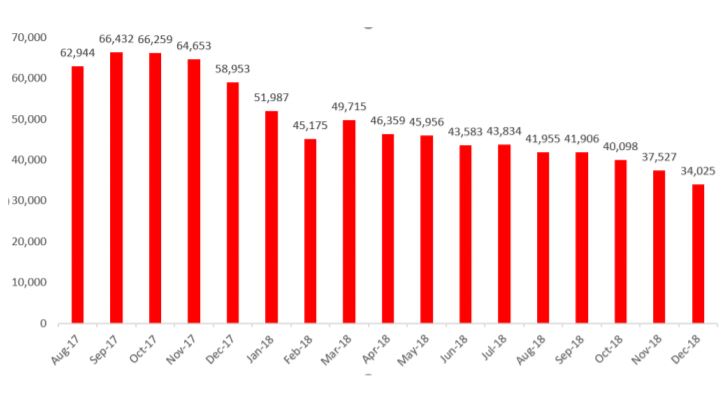 Many questions come to mind regarding Figure 2. The first question that arises is that Mobike usage was declining significantly before April 2018, when MD acquired it. Between September 2017 and March 2018, Mobike unique visitors ("UV")as measured by the Mobike App declined by over 16.7 million. Barring February 2018, the trend has been unambiguous that Mobike was a declining asset. Since the acquisition, the number of UVs has declined consistently and is down by approximately 30% to 34M for December 2018. Declining usage resulted in a falling rank for Mobike's app amongst China's super apps as illustrated in Figure 3.
Figure 3: Mobike APP No Longer in Top 100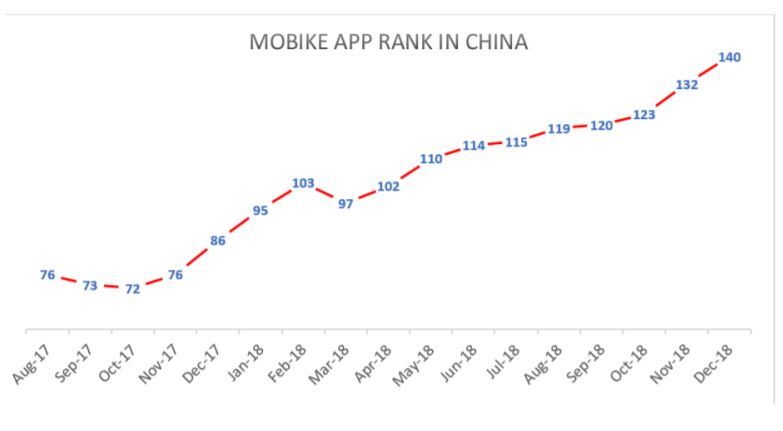 Source: ANTYA Investments Inc. and iResearch
Therefore, Figure 2 and three together underline US$ 133M allotted to customer list at the time of purchase. It is evident that customers are defecting at a rapid rate, and instead of growing when competitors are going out of business Mobike is shrinking alongside. In our view, that requires a reassessment of the amounts allotted to the customer list account during the purchase price allocation, and it may have to be written down. Concomitantly, it also raises a question on the allocation of US$ 250M to the "Mobike" trademark as well, because clearly, the trademark is not as valuable as it was assumed to be in April 2018 and had been in decline even before that.
Even more importantly, MD has decided to rename Mobike to Meituan Bike as described in the following story Mobike Name Pedals Off Into Sunset, implying Meituan sees little value in keeping Mobike around.
Summing up, the customer list has frayed, the brand name will be marched off into the sunset, and overall usage has declined. Thus we believe that the net result will be an impairment of intangible assets and an accelerated depreciation schedule for PPE.
In all of the preceding one cannot ignore goodwill. Management outlined in the prospectus that the headroom in the event of an adverse deviation of a mere 10% in isolation i.e. either in revenue forecast, or in a decrease in terminal value, or an increase in discount rate by 5%, would essentially result in goodwill associated with the Mobike deal, declining by RMB 12B (US$ 1.9B) to RMB 0.46B (US$ 72M). That implies a write-down in goodwill of US$1.9B.
We have already highlighted a 30% decline in customer usage in Figure 2, in addition to increasing regulatory oversight to ensure the integrity of cityscapes in China, a renaming of the brand and an appreciable decline in the value of the smartphone app in China.
Management further states and we quote:

To conclude, a slowing Chinese economy which is already evident to investors, accompanied by business-specific trends call for a reassessment of the purchase price allocation recorded at the time of the Mobike acquisition.
We are of the view that a significant and permanent write-down is forthcoming either when 2018 results are reported or after Q1-2019.
Yes, it will be non-cash, but it points to darker days ahead from a valuation and growth standpoint for MD investors. We maintain our bearish stance and believe there is an additional downside.