Bristol Myers Squibb Co (BMY US) ("Bristol-Myers", "BMY" or the "Company") has been the subject of multiple stories in the media regarding its fate as a standalone entity, since announcing its intent to acquire Celgene Corp (CELG US) ("Celgene") in the first week of 2019. Many investors have expressed scepticism at the proposed transaction primarily driven by the Revlimid patent expiry cliff that Celgene faces, and therefore believe that the Company is overpaying for Celgene. Starboard Value ("Starboard") has been one of the prominent critics, although its ownership stake is not meaningful in the context of the Company's current market capitalisation of approximately $85 billion. (All amounts in US$)
Starboard letter of February 28, 2019, primarily alleged that:
Celgene is staring at an unprecedented patent cliff, with Revlimid accounting for 63% of its $15.2 billion 2018 revenue base going off patent by April 2027. (Celgene to allow the sale of generic Revlimid before patent expiry)
Celgene's pipeline is risky and would require substantial continuing research and development ("R&D") expenditures to bring it to fruition.
The proposed transaction was "perhaps … hastily construed" to "thwart potential suitors" of the Company.
The Company's allocation of value between Celgene's marketed products is "potentially misleading".
Finally, without providing any substantive direction, Starboard opined that there is a "better path forward for Bristol-Myers".
Bristol-Meyers response to these allegations issued in a presentation today is comprehensive and substantive. Of the five key issues that Starboard highlighted, number 3 suggesting that the proposed transaction is a means of defending against unnamed suitors is the most contentious and worrisome for existing BMY shareholders. We were keen to see how the Company responds to these far-reaching assertions, and we are satisfied with the Company's response.
Figure 1 highlights the process followed by BMY before the acquisition of Celgene.
Figure 1: Defensible Diligence Process on Celgene's Prospects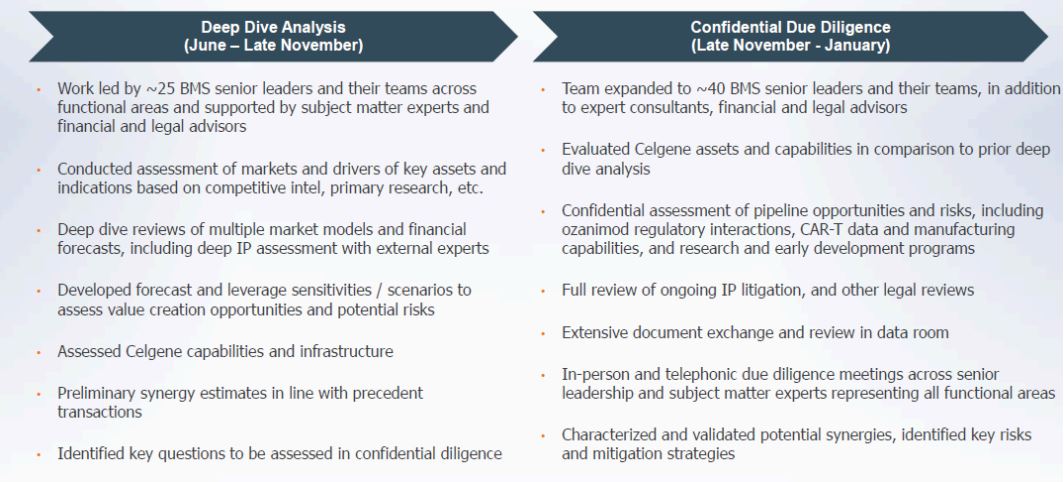 Source: BMY Presentation March 06, 2019 and ANTYA Investments Inc
As an outsider, one must trust the judgement of top management and senior leaders that understand immuno-oncology, are in the trenches every day dealing with IP related litigation, regularly deal with the FDA for filing and amending product approval applications, are in sync with the needs of doctors and patients, and finally, are acutely aware of the pitfalls of valuing a drug pipeline. Therefore, given the resources at the disposal of BMY, we are comfortable in the process followed and outlined by the management in today's presentation. That is not to say that the Company's assessment could be off-base, but there is a high likelihood that it is not.
Figure 2 provides context to the Company's due-diligence process towards Celgene compared to other pharmaceutical and biotech companies that were acquired, and the transaction size is in proximity to that contemplated here.
Figure 2: Due-Diligence Process and Timeline More Conservative than Precedent Transactions
Source: BMY March 06, 2019 Presentation and ANTYA Investments Inc.
As illustrated in Figure 2, the Company's due-diligence on Celgene was 36 days. Moreover, Celgene's challenges with its R&D programme given some high profile failures as well as the patent cliff worries were highly evident in the marketplace for all of 2018 and began in the latter half of 2017. Therefore, to us, it appears more of an opportunistic and credible acquisition, unlike Starboard that has taken the position that it is value destroying. Moreover, to the extent Starboard's grief is with R&D spending at BMY, then investors would be well-reminded of the Valeant Pharmaceuticals fiasco – renamed Baush Healthcare – where the CEO undermined R&D spending under the pretext of it being wasteful, ultimately laying Valeant to waste.
In ANTYA's view, the Company has dealt a definite blow to the most contentious argument made by Starboard when it said that the transaction was "hastily construed". Starboard's other points regarding Celgene are well-known to investors and were reflected in Celgene's valuation before the acquisition bid.
Another intriguing argument that Starboard made was regarding purchase price allocation between segments. Here again, management's estimate appears credible and defensible compared to a "Pie in the Sky" approach followed by Starboard. Figure 3 highlights the Company's disclosures today and in the S4 filing earlier.
Figure 3 – Back of the Envelope Suggests this is Workable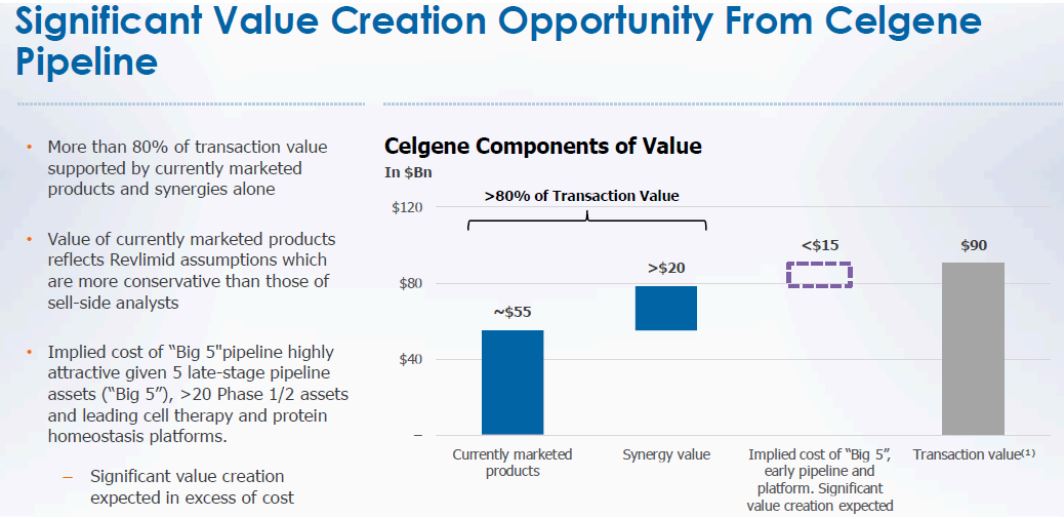 Source: BMY March 06, 2019 Presentation and ANTYA Investments Inc.
Management has ascribed a value of $55 billion to currently marketed products and another $20 billion to synergies. At $2.5 billion, assuming the Company can attain 80% of the forecast synergies, on a pre-tax basis $2 billion will be achieved. At a tax rate of 30%, after-tax synergies would amount to $1.4 billion. Therefore, $20 billion synergy value is a multiple of 15x after-tax earnings. We believe a range of 12x-15x on synergies is reasonable and therefore defensible.
For the next five years, Revlimid with $15 billion in annual revenues, assuming no growth before patent expiry, will generate $75 billion in revenue and at 90% gross margin would provide $67.5 billion cumulatively in contribution margin to the combined entity to 2023. Revlimid's shelf-life is longer than that. Then there are other products as well.
On that basis perhaps the $15 billion implied for the pipeline is the contentious portion. In our view, as highlighted in Figure 4, BMY is making the right bet and at a bargain price. It may not succeed, that no one knows for sure, but it is the right bet to make and in our view at the right price.
Figure 4: Cell Therapy market to Grow 15 X in 5 Years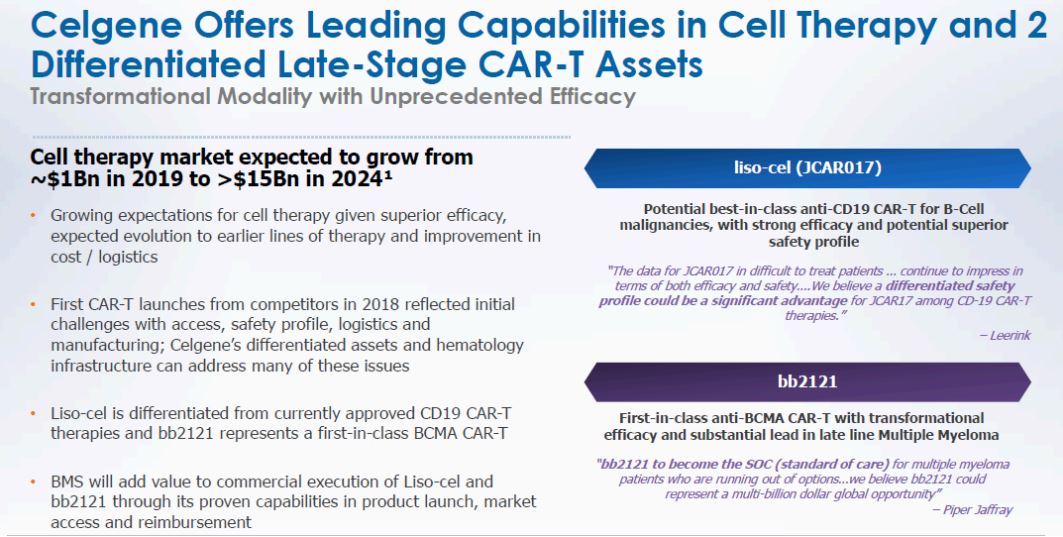 Source: BMY March 06, 2019 Presentation and ANTYA Investments Inc.
With the cell therapy market expected to grow to $15 billion in from $1 billion in 2019, BMY is placing the right bet with the right candidate. Bluebird Bio, which is Celgene's partner in developing bb2121 is a highly rated biotech company and recently outlined a detailed presentation on the path to pricing and reimbursement for bb2121 and other assets in its portfolio. That suggests to us that insiders are more bullish on the prospects for the drugs than institutional investors.
Finally, from a value perspective, given the pessimism expressed by institutional investors in Celgene's prospects before the bid by BMY, it appears to us that the Company moved at the right time. Figure 5 highlights the comparison to other transactions in the sector.

Figure 5: Difficult to Argue That Price Paid is Excessive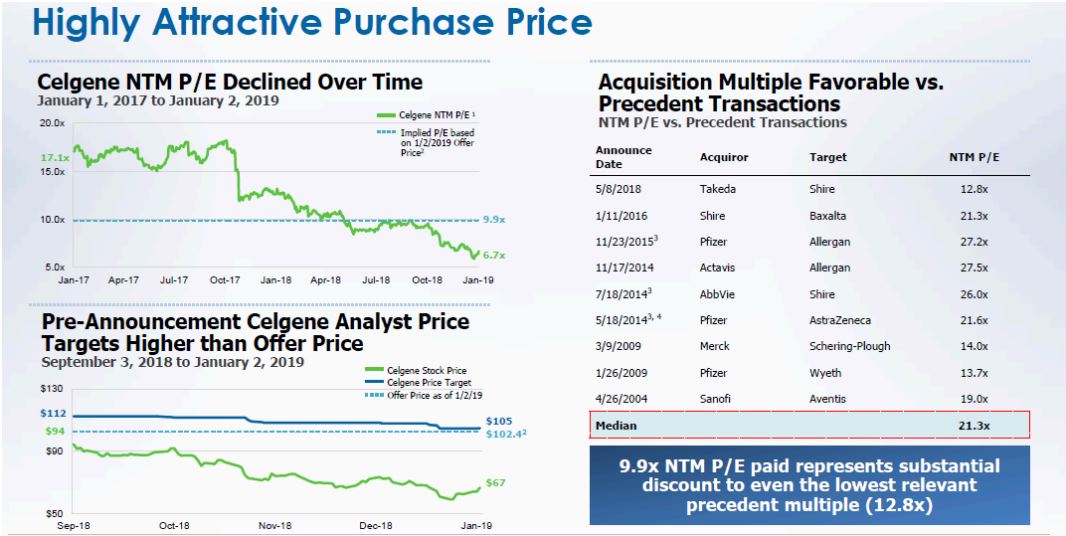 Source: BMY March 06, 2019 Presentation and ANTYA Investments Inc.
At 8.25x NTM EBITDA, and 9.9x NTM P/E, it is hard to argue that BMY overpaid.
Management forecasts $19.6 billion in proforma earnings for the combined company in 2023, implying an estimated Pro-forma EPS of $8.90, compared to a stand-alone estimate for BMY on Capital IQ for 2019 of $4.18.
The problem and the opportunity lie in the success or a lack thereof, of the pipeline. Big-pharma investors cannot shy away from that. We are optimistic.